Walmart has been a very popular shopping destination for years.

Walmart Has Done It Again with Its Money Center

You can buy almost anything with them. They sell bags, tires, regular store items, prescription eyeglasses and so on.
Walmart also has a photo center and pharmacy.
Their exchange program allows you to exchange your electronic items.
The biggest benefit of Walmart is their MoneyCenter.
You can check out: The Best Things to Buy at Walmart and Target
About Walmart MoneyCenter
Walmart's MoneyCenter is Walmart's alternative to banking.
Its location is in front of Walmart's stores .
Its MoneyCenter offers online and mobile financial services that help you save time .
These services include:
i. Money transfers
ii. Cash services
iii. Insurance
iv. Bill payments
v. Tax services and more.
Summary of Walmart Money Center's Services and Their Benefits

SERVICES

BENEFITS

Money Card

It is anywhere a Visa or MasterCard is accepted
Free online bill payment services
Cashback rewards for Walmart purchases

Credit Card

5% cashback for Walmart purchases
2% cashback rewards after first 12 months for purchases on Walmart store
You can use the 2% rewards at restaurants or for travel

Check Cashing

Cheap to use
You can use It without a bank account
No registration fee required

Tax Preparation Services

Helps prepare your tax for easy payments
Organization of your tax information
Tax tips and advice on Walmart.com

Money Transfer

Online transfers from the comfort of your office or home
Fast means of delivery

Bluebird Services

Free access to MoneyPass ATMs
Free direct deposits
Mobile and online bill payment

Bill Pay

Fast notification of payments
Fast payment delivery
Over 5,000 billers supported
Services Available at Walmart MoneyCenter
You need to familiarize yourself with the products and services, which are available at Walmart's MoneyCenter before stepping into any of the stores. Gighlighted below is a list of these products and services: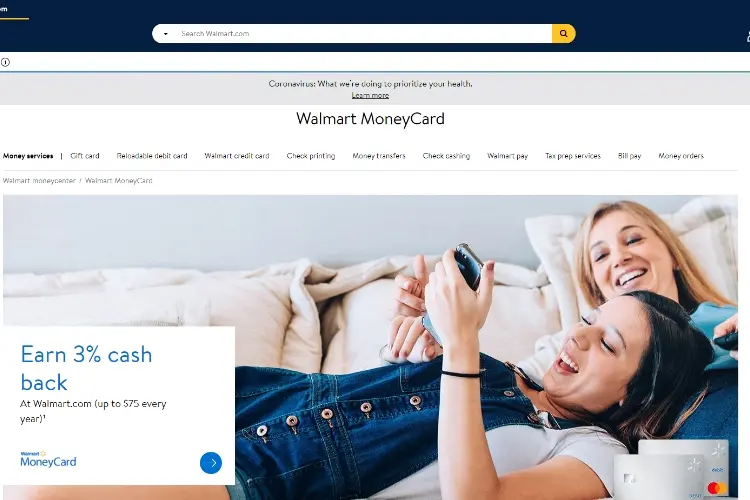 Walmart's MoneyCard is a prepaid rechargeable debit card .
It is available as a Visa or MasterCard and useable in any place where a Visa or MasterCard permit access.
This card functions in the same way a checking account does.
Benefits of Walmart's MoneyCard include:
Free online bill payment services
No overdraft fees
Cashback rewards on Walmart purchases
Mobile check deposit to cash check
MoneyCard allows you to shop online
Recharging the card via direct deposit has no charges
Track card activities on your smartphone. using the MoneyCard app for iOS and Android devices.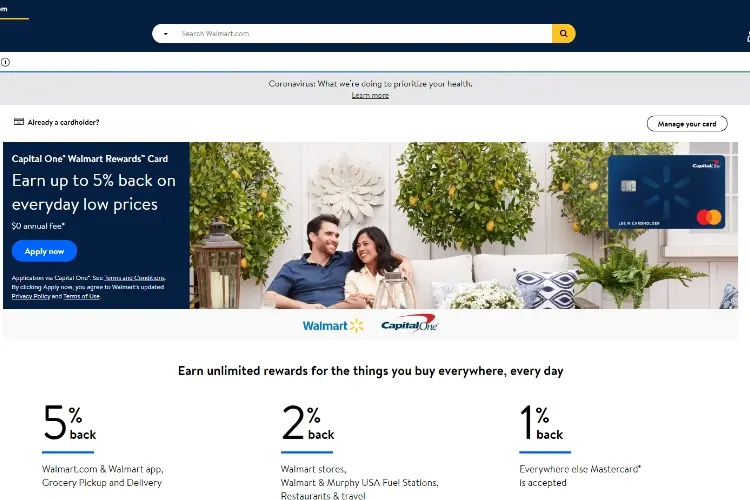 Walmart's credit cards come in two categories
i. Walmart Rewards Card
ii. Capital One Walmart Reward Card .
Both cards are available as a MasterCard .
The Walmart Rewards Card works exclusively for Walmart purchases .
The Capital One Walmart Reward Card works anywhere a MasterCard is functioning .
The benefits and similarities of the two cards include:
5% cash back rewards when you use your card for payment. Either on Walmart's pay app (Walmart Pay) or Walmart.com purchases, including grocery pickup and delivery
5% cashback (for the first 12 months ) when you use Walmart Pay for in-store purchases
2% cashback rewards after the first 12 months for purchases on Walmart stores.
The Capital One Walmart Reward Card is a notch better than the Walmart Reward Card.
There are extra benefits which include :
You can use the 2% cashback reward for in-store purchases at restaurants and travel.
1% cashback reward on transactions outside of Walmart (where a MasterCard works).
Other benefits of Walmart's credit card include:
No annual or foreign transaction fees
Carry out your transactions anywhere, using the Walmart mobile app for iOS and Android devices
Effortless card lock of misplaced or stolen cards
Security alerts
$0 fraud liability
Identity theft
Rewards categories do not have spending caps
Redeem rewards during checkout at Waltmart.com, statement credits, gift cards or travels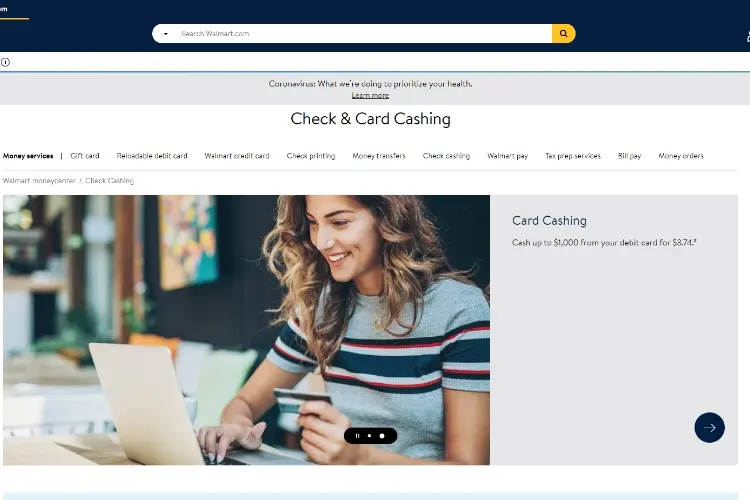 One key service offered by Walmart Money Center is Cash Checking .
Like you cash a check in a bank, Walmart customers can cash their cards or different kinds of checks in Walmart stores .
Checks cashed can either go to your Walmart MoneyCard or you receive it as cash . It depends on your preference.
Cash checking on Walmart stores has a limit of $5,000 ($7,500 between January and April).
For Two-Party personal checks, the cashing limit is $200. Cash checking limits may vary depending on state laws .
The limit is also set at 3 transactions a day
A max fee of $4 will as charges for checks cashing up to $1,000 and $8 for checks above $1,000
Walmart charges a fee of $3.74 per transaction for card cashing. This fee adds up to any other fee(s) or charges by the card issuer
The limit for card cashing is $1,000 for each transaction
The following are the kinds of checks that you can cash with Walmart:
Preprinted checks
Payroll checks
Government checks
Tax refund checks
Insurance settlement checks
401 (k) or retirement account disbursement checks
MoneyGram money orders that you process at Walmart
Cashier's check
Two-Party personal checks
Note that Walmart does not cash personal checks.
The benefits you enjoy with the Walmart Check Cashing service include:
It does not need a registration fee.
Helps people without a bank account to cash checks
Cheap way of cashing a check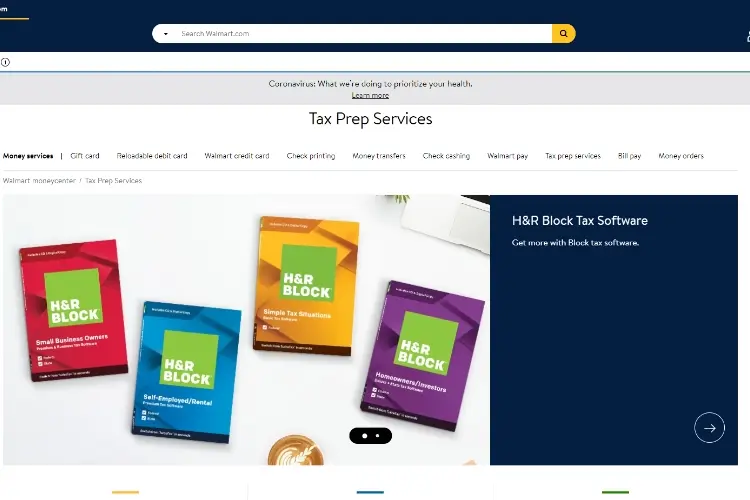 Walmart's collaboration with Jackson Hewitt tax preparation services . which makes it easy for you to prepare your taxes fast and at ease.
This service helps you prepare your taxes for easy payment.
Other benefits of Walmart's Tax Preparation Services include:
Easy organization of your tax information
Prepare and file your taxes in an accurate way with in-store preparation services
Availability of on-site tax professionals in over 3,000 Walmart stores
Access to Tax tips and advice on Walmart.com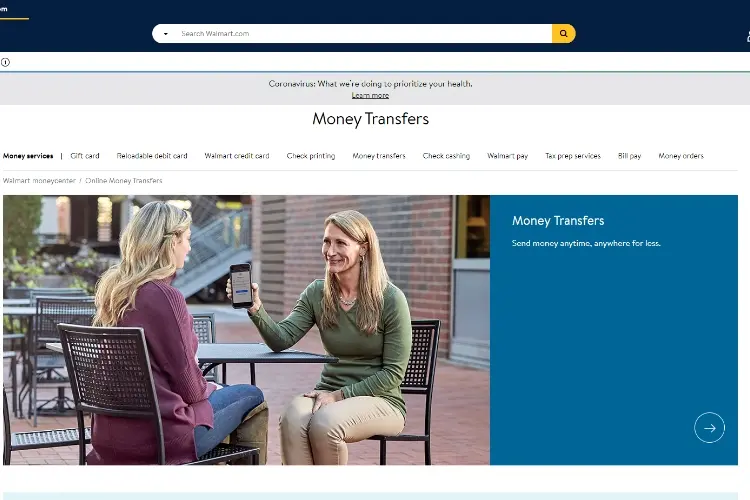 This service allows you to transfer your money to anywhere you desire fast and at ease .
You can send cash within the United States . or international countries like India, Mexico, Philippines and lots more.
You can process Walmart Money Transfer via:
It allows you to send money from a Walmart store or Walmart app to another Walmart store within the U.S. and Puerto Rico .
It allows you to send money from Walmart stores in the U.S. Waltmart.com. Or the Walmart app into MoneyGram agent locations in over 200 countries . https://www.walmart.com/cp/online-money-transfers/www.moneygram.com
It allows you to send money online or in-person to MoneyGram locations abroad or in the U.S .
Benefits of Walmart's Money Transfer service include:
Online transfer of money from the comfort of your office or home .
Your transfers process within minutes .
Recipients of money transfers can have access to their money within minutes.
The fees for both the Walmart2Walmart money transfer. and Walmart2World transfer ranges from $4 - $16 .
You can check out: Best No-Fee Checking Accounts of 2023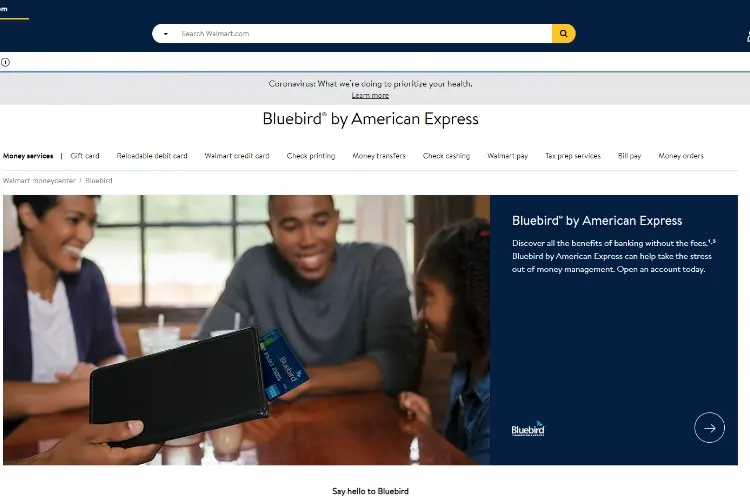 If you want to enjoy banking without extra fees , the Bluebird account is your best option .
The Bluebird account is an account that allows you to manage your money at ease, with suitable money-management tools and flexible features.
The account also gives you access to the Bluebird American Express Card. The card is the result of Walmart's partnering relationship with American Express.
The Bluebird American Express Card works everywhere American Express is.
Benefits of Bluebird's account include:
Free access to MoneyPass ATMs . You pay a fee of $2.50 for use of the card on ATMs that are not MoneyPass.
Easy sending and receiving of money
Free direct deposits that allow you to get your paychecks two days faster.
Mobile and online bill payment
Check deposits on mobile
Card protection
Shopping and entertainment discounts
SetAside account which allows you to save money for future spending . For example, family vacation
Free access to American Express hotline
You can open a Bluebird account in the following ways:
By signing up for an account for free on Bluebird.com or the Bluebird mobile app. The only drawback of this method of opening a Bluebird account. is that you will have to wait for your Bluebird account card to get to you
By purchasing a Bluebird account setup kit for $5 from Walmart stores. The kit comes with a temporary card that you can use immediately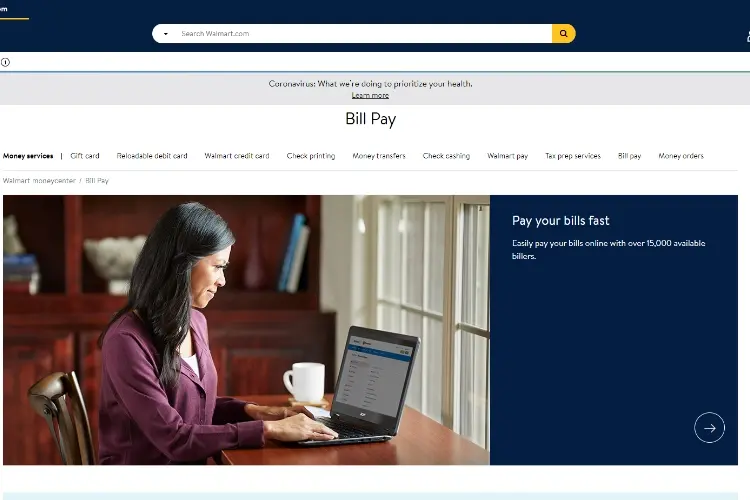 Walmart's Bill Pay service allows you to pay your bills online, on Walmart's app or in-store fast and secure.
You can make these payments either with cash, Walmart's MoneyCard or a debit card .
Walmart's Bill Pay service helps you avoid penalty fees, and service disruptions to payment.
Other benefits of Walmart's Bill Pay include:
Notification of payment in less than 10 minutes.
Payments delivery is on the same day or the next day.
Supports over 15,000 billers
Walmart's MoneyCenter Hours
In general, the Walmart Money Centers are open from the hours of 8:00 am on Mondays to 8:00 pm on Saturdays . On Sundays, they operate between the hours of 10:00 am to 6:00 pm. These hours may vary depending on your location. Some holidays can also affect these hours. For example, Walmart closes at Christmas and so, is their Money Center. On Christmas Eve as well, they operate a reduced schedule.
If you want to use a Money Center, it is advisable for you to confirm first whether you have one in the local Walmart store close to you . This is because not every Walmart store has a Money Center on-site. You can check online at Walmart.com or reach out to the Walmart store close to you to confirm if there is a Money Center. You can confirm online the availability of a Money Center at your location and their hours of operation. Follow the steps below.
Go to Walmart.com on your mobile device or desktop
Click the location icon in the top right corner of the website
Click on the "stores" tab
Update your location by entering your zip code or city, state
Click on "local store"
A result of stores around you with their services. hours of operation and contact info will appear.
Click to see more of the services. You will find "Money Services" among the listed services. if the store provides this service. If it does not display it, it means the store does not provide Money Center services. All you have to do is to move to the next store and check to see if it provides Money Center services.
Conclusion

Walmart MoneyCenter gives you access to lots of financial services. These services are very cheap. You can also use it without a bank account . But, these services have a limit. This is because Walmart is not a bank. Walmart works with banks and other financial institutions to provide their financial services. Most bank accounts offer the same services as Walmart's MoneyCenter doing so without monthly fees. It is best for you to open a full-service bank account which gives you access to ATMs and branches.
You can read: 4 Steps to Switch Banks