Are you a music lover or producer? Or you just love digital audio works? This is an essential guide to the best music making apps that works on most android devices in 2023.

Why a Need for Best Digital Audio Workstations on Android in 2023?
When it comes to making music, several factors needs to be considered. Factors such as virtual synthesizers used for producing complex sounds of any variety. Most of these apps are not only useful for experienced sound engineers but can be a go to for beginners new to music production.
An android device has a whole lot of amazing functions that can be explored and unlike iOS devices, these functions varies. Certain android apps can be used for recording and making music that suits the modern day entertainment industry needs.
You can explore sounds or create your own sound with some of this Digital Audio Workstations (DAW) that will be discussed in this guide.
There is a long list of music making apps options to choose from and here are some we highly recommend.
1. G-Stumper Studio
2. Bandlab
3. Audio Evolution Mobile
4. Caustic 3
5. Sunvox
6. Zenbeats
Here is a YouTube video preview of the best Digital Audio Workstations
Summary of Best Digital Audio Workstations for Android Devices
The table below shows a summary of the developer details and how much it will cost to enjoy the full version of these app for music creation.
| | | |
| --- | --- | --- |
| | Price | Developer |
| G-Stomper Studio | $12.99 | Planet-h |
| Bandlab | $0.00 | Bandlab Technologies |
| Audio Evolution Mobile | $6.99 | EXtreme Software |
| Caustic 3 | $9.99 | Single Cell Software |
| Sunvox | $5.99 | Tracker Software |
| Zenbeats | $14.99 | Roland |
Detailed List of Best Android DAWs in 2023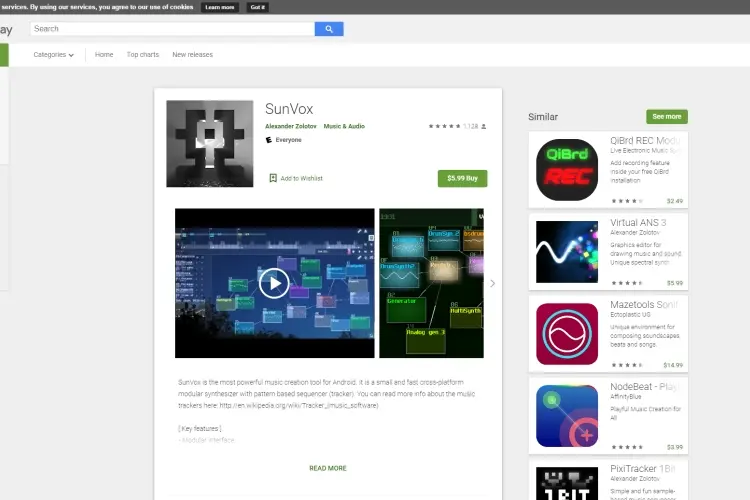 The G-Stomper Studio is a mobile audio app used for music production . It has an amazing internal sound engine and a huge load of music making tools that can be explored. This app has an inbuilt virtual analog synthesizer that helps to produce sound using digital signal processing.
This is a powerful digital audio workstation that consists of a sampler and drum machine. It is a unique jamming machine because it provides a nice sound source for live music performance. You can explore the factory sound library or create your own sound due to its intuitive interface anytime and anywhere.
Basic Features of G-Stomper Studio:
· Effect Rack
· Line Mixer (36 Channels)
· Factory Sound Library
· Graphical Sample Recorder
· On-Screen Piano Keyboard
· Multi-Touch Control
· Live Song Arranger
· Drum Machine (24 Drum Pads and Tracks)
· Track Grid and Polyphonic Step Sequencer
· Virtual Analog Performance Synthesizer
Functions of G-Stomper Studio:
· G-Stomper Studio can be used for audio editing.
· Tap recording can be performed using the drum machine.
· The track grid sequencer is used for creating beats.
· Recorded performances can be exported track by track for use on other digital audio workstations.
· It has a unique Ableton Link Support that will allow you run the G-Stomper Studio on multiple devices while in sync on the same Wi-Fi network.
NOTE : You have to pay $15.99 to unlock the full version.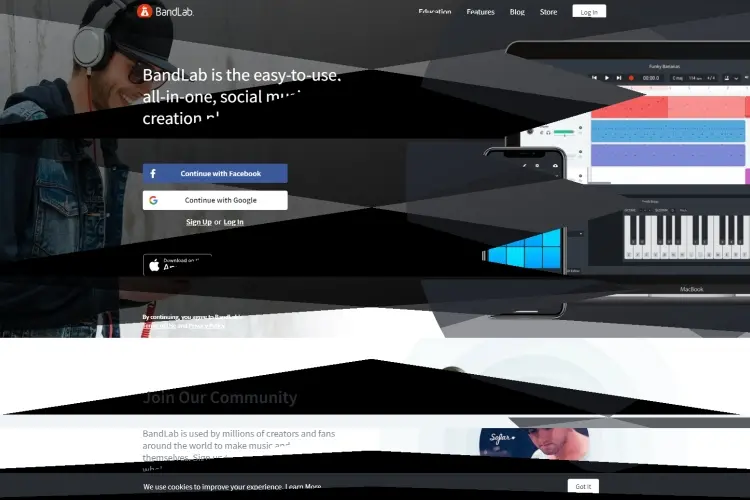 The Bandlab app is a music creation platform used for both music production and social interaction. Bandlab digital audio workstation allows users to make music and also share the content on different levels. It works on all android devices.
Music produced with this DAW is web based which means it can be shared publicly with music lovers around the globe. Bands can be formed with other artists in different location by simply inviting them to join on a current project one is working on. The unlimited cloud storage and online community makes it standout from other music making apps.
Basic Features of Bandlab:
· Guitar Effects
· Vocal and Base Effects
· 12 Channels Recorder
· 12 Track Mix Editor
· Web Based Community
· Unlimited Project Storage
Functions of Bandlab:
· It offers a wide range of guitar effects
· Live audio can be recorded with the mix editor .
· It offers 12 channels for music recording on android devices.
· Layers of beats and rhythm are built with the Looper functionality.
· Music projects can be shared on your PC or with an iOS device.
· All contents created are hosted in a cloud for future reference.
· Contents created are developed through a MIDI enabled feature.
NOTE : Bandlab can be downloaded for free on Google PlayStore .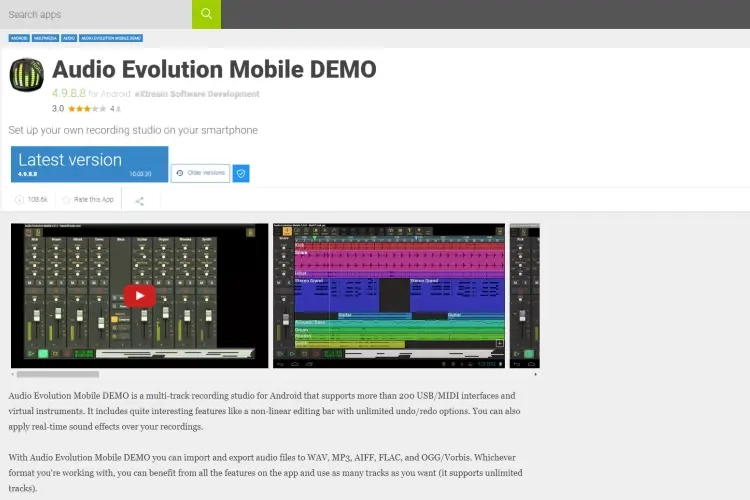 The Audio Evolution Mobile is a basic mixer and audio recorder that consists of several channels. It is a traditional digital audio workstation that specializes in a Cubase experience while producing music.
We recommend the use of Audio Evolution Mobile because it offers clips automation and supports sound-font instruments. Sampling and looping of sounds can also be done on this audio workstation.
Basic Features of Audio Evolution Mobile:
· Drum Pattern Editor
· Mixer Console
· Virtual Instruments
· Plug-in Interface
Functions of Audio Evolution Mobile:
· It has a MIDI sequencing function.
· It offers multi track audio recording.
· This app offers loop playback function.
· New and existing audio can be edited using cross fading editing.
· Dynamics processing is done using several effects available.
· It offers support for external USB audio interface.
· Auto tunes for vocals can also be performed with this app.
NOTE : You have to pay $6.99 to unlock the full version.
Check out this YouTube video to learn more about Digital Audio Workstations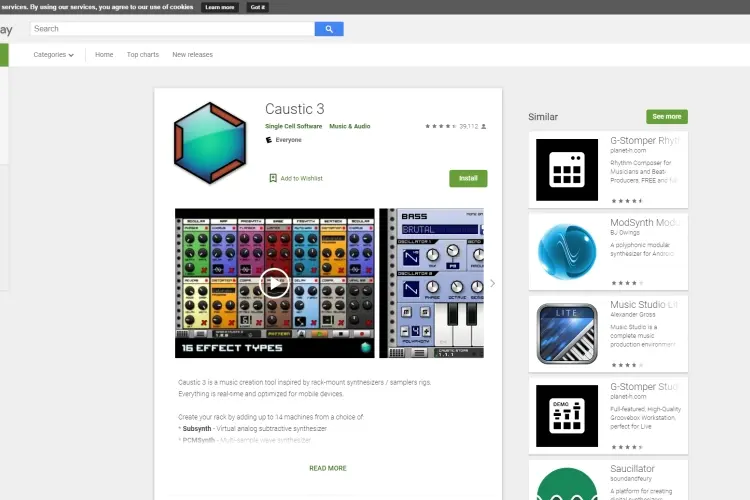 This digital audio workstation is dedicated for optimized music creation. Caustic consists of song sequencer , samplers and several synthesizers than can mix together to produce a desired sound.
Caustic 3 offers series of synthesizers used for music production, especially song mode patterns. These patterns are created with the help of a piano roll synthesizer by ensuring they are all laid out along a given timeline of instrument tracks. It is one of the best music creating app out there and its wide range of synthesizers makes it unique. The Caustic 3 demo is free but has limited functions as compared to the full version.
Basic Features of Caustic 3:
· Beat-Box
· Vocoders
· Drum Machines
· Pad Synthesizers
· Baseline Synthesizers
· Subtractive Synthesizers
· Sample Based Synthesizers
· Modular Synthesizers
· USB MIDI Controllers
· Frequency Modulation Synthesizers
Functions of Caustic 3:
· Music is created on Caustic 3 using racks of virtual instruments.
· EQ effects can be created on several mixer channels available.
· Personal samples can be imported for use on Vocoder and Beat-Box.
· The PCM synthesizer supports Soundfonts instruments.
· It offers a function that helps to add effects to a music track.
NOTE : You have to pay $9.99 to unlock the full version.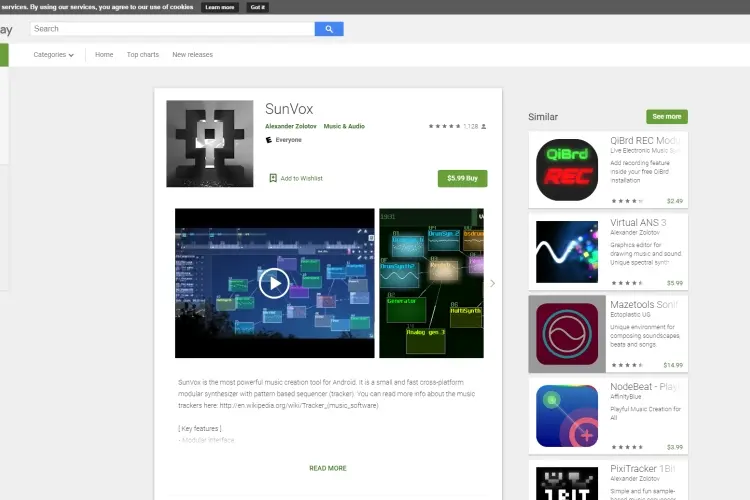 Sunvox is a music creation tool that helps in creating complex electronic sounds. It is basically a modular synthesizer that offers amazing effects while creating music. This is the most powerful tool for music production .
This is a very good music creation tool that provides a nice interface and an efficient workflow platform for music producers. Sunvox is a modern day tracker that is cost affective and that is one of the major reason why it's made our list.
The effects on Sunvox are classified as;
· Echo
· Distortion
· Loops
· Reverb
The listed effects above are the major ones but there are many other several effects. We recommend downloading this app for free on Google PlayStore.
Basic Features of Sunvox:
· Groovepad Library
· Virtual Instruments
· Counter Intuitive Interface
· Standard Tracker Effects
Functions of Sunvox:
· Live audio processing can be performed using Sunvox.
· Effects can be customized with the multichannel modular processor.
· Old sound files can be tweaked and rendered on any latest version.
· The cross platform support means it can be installed on several devices.
· It offers multiple commands that helps set music tempo in a given pattern.
· Several synthesizers can be patched together so as to generate an effective sound.
NOTE : You have to pay $5.99 to unlock the full version.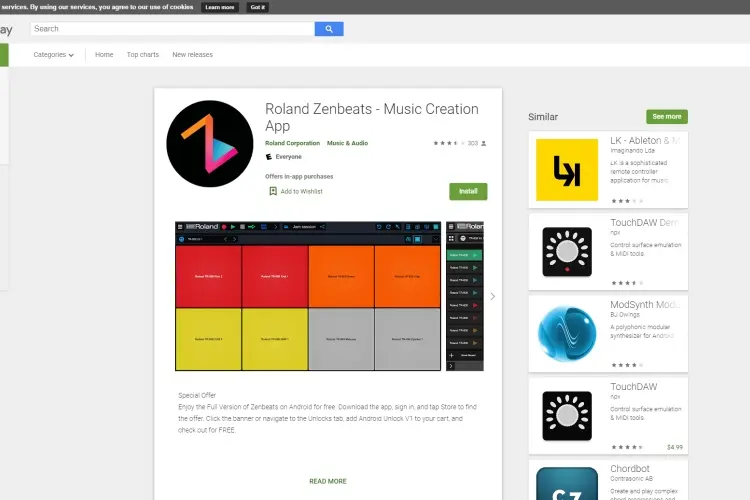 This is a versatile digital audio workstation for android devices that offers unlimited audio and virtual sound tracks . This audio workstation comes with a complete set of loops and sound effects.
Zenbeats has a beautiful interface and touch screen effect is amazing. The layout and workflow is quite unique and different from the regular DAWs, which makes it very easy to use. It also comes with drum kits, loops and patterns used for making good beats.
Basic Features of Zenbeats:
· Step Sequencer
· Drum Machine
· Loop Builder
· Electric Piano
· Bass and Organ
· Electronic Guiatar
· Onscreen Keyboard
· SampleVerse Synthesizer
· External MIDI Controller
Functions of Zenbeats:
· Freeform are created in Loop Builders .
· Sounds can be mixed with several sequencers.
· Audio recording can be performed with Zenbeats.
· The onscreen keyboards helps to avoid playing wrong notes.
· It offers several virtual instruments for timeline recording.
· There is an autofill function that allows beats to be created using single gestures.
NOTE : You have to pay $14.99 to unlock the full version.
CONCLUSION
There are many other digital audio workstation for music production but the ones listed in this article are special and offers the best music production experience. Take your time out to explore the several options provided in this guide and thank us later.
You can watch this YouTube video below to learn more DAWs in 2023.

We believe you must have enjoyed reading and we'll appreciate if you can share your thoughts and suggestions in the comment box. Thanks for your time.