As a Windows user, when you come across a Kernel Security Check Failure on your Windows 10, then it is necessary to fix it by applying the appropriate methods.
Why a Need to Fix "Kernel Security Check Failure" on Windows PC Error?
These methods have been listed in this article, along with their procedures. The Kernel security problem is similar to the Event ID 41 Error, as they both function in the same section. Most times, a Kernel Security Check failure results in a Blue Screen error , which is common on the Windows OS. If a Blue Screen results from the kernel security error, then the KERNEL_SECURITY_CHECK_FAILURE error will be displayed at the bottom of the screen.This message will be a label, or a reason why the Blue Screen has restricted regular access to your Windows PC at the present moment. If this occurs, first restart your computer and see if the Blue Screen reappears when your PC stays on for a few minutes. If the Blue Screen returns, with the KERNEL_SECURITY_CHECK_FAILURE error , then you can try out these methods for fixing the error which are detailed in this article.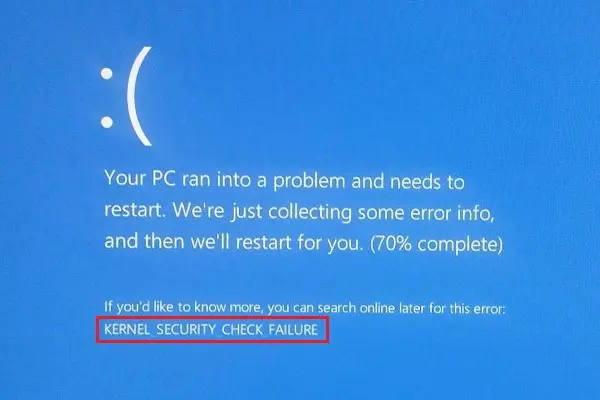 The Kernel is a highly important part of the Windows OS , and there are lots of factors that could result in this error. And because it is highly essential, the Kernel Security Check failure could cause your PC to stop Windows from running, and you wouldn't be able to use your computer in any way. Windows could be frozen for a very long period of time with unknown duration. This means that a scan becomes highly necessary in order to find the source of the error, because if it is neglected, a Blue Screen eventually appears and would be there until you find a solution.
As a user of Windows, you would have installed several applications and programs you require to do your projects and other activity. If there are several programs installed on your Windows 10 storage drives, then they would have to be updated also. When the downloads for these updates are running, or when these updates are being installed, that is when the Kernel Security Check Failure usually happens. It results from inconsistencies occurring between the drivers of some programs and Windows Operating System. Therefor, if the Kernel Security Check failure comes up continuously, then this means that an upgrade/update of the Windows OS has become highly necessary, so it can work seamlessly and compatibly with the specifications for the programs that you installed and updated. When the Windows OS and its drivers are now compatible, then any Kernel Security Check Failure will be taken care of completely.
Reasons Kernel Security Check Failure Occurs Frequently
Aside incompatible and/or outdated drivers, a Kernel Security Check error can occur due to a lot other reasons. These reasons vary in lots of ways, just as the different versions of Windows Systems operate differently from the other. Therefore, it is important that the user tries out the different methods and procedures for fixing this problem until it is finally solved.
Firstly, perform a thorough scan for malware files or viruses which could make the Windows System insecure. Also take a look at the device drivers on your computer, and if there is a section of memory that has been corrupted by observing the RAM . Check installed applications, software and hardware and see if any part of it is incompatible with your computer's system and specifications. If it occurs continuously, you can observe your hard disk; if it is corrupted or damaged, then it needs to be replaced. A restart is necessary as well; if the Blue Screen reappears when the computer is restarted , with the KERNEL_SECURITY_CHECK_FAILURE displayed, then its probably time to try out some more simple procedures, like the ones listed below.
Disable or switch off any antivirus services that are previously running on your PC.
Do a System Restore or Automatic Repair to diagnose and fix the Kernel Security Check Error.
Use an Antivirus, or the Windows Defender Service to perform a scan on the operating system.
If there are any updates that are pending i.e Windows Updates, download and install them.
Ensure that the device drivers for your PC are reinstalled from their official site.
Best Ways to Fix Kernel Security Check Failure Windows 10 Error

Below are the best Methods And Procedures For Fixing Kernel Security Check Failure on Windows
The solutions listed above are quick fixes and palliatives , which may not work out for more serious problems. If these palliatives are not good enough to fix it, then you can look at these methods and try them out accordingly until it is fixed.
Use A Driver Verifier
You can only perform this method if you can successfully sign in to your Windows 10 PC normally, as a full scan will be done in this method. If you can sign in, then try to open the Driver Verifier, which will scan for old, outdated, or problematic drivers and get them repaired. Note that it is necessary to create a Restore Point, before starting the program.
Running System File Checker and Disk Check on Windows 10
Start Windows and boot it into Safe Mode from Advanced Boot Options.
When Windows has started on Safe Mode, sign in, and press the Windows + X keys simultaneously.
Select the Command Prompt (Admin) option.
When the Command Prompt is opened, typed these commands into its window, and select Enter after each:
Sfc /scannow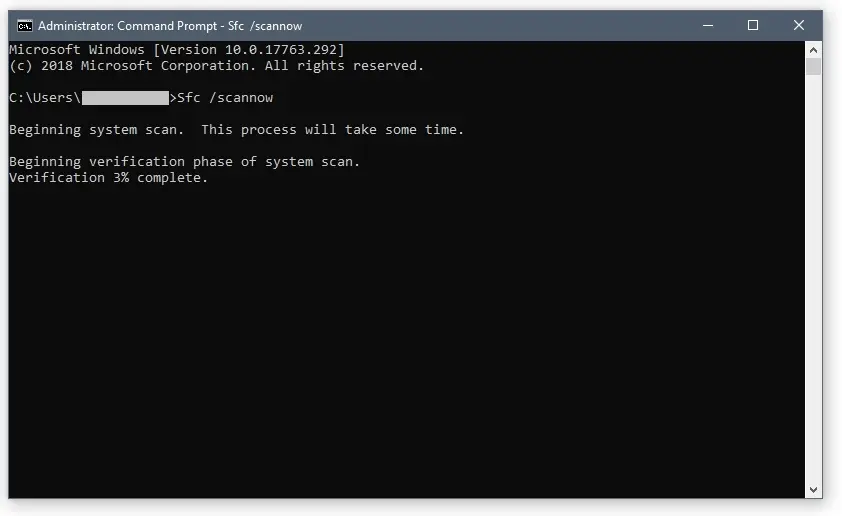 Chkdsk /f C: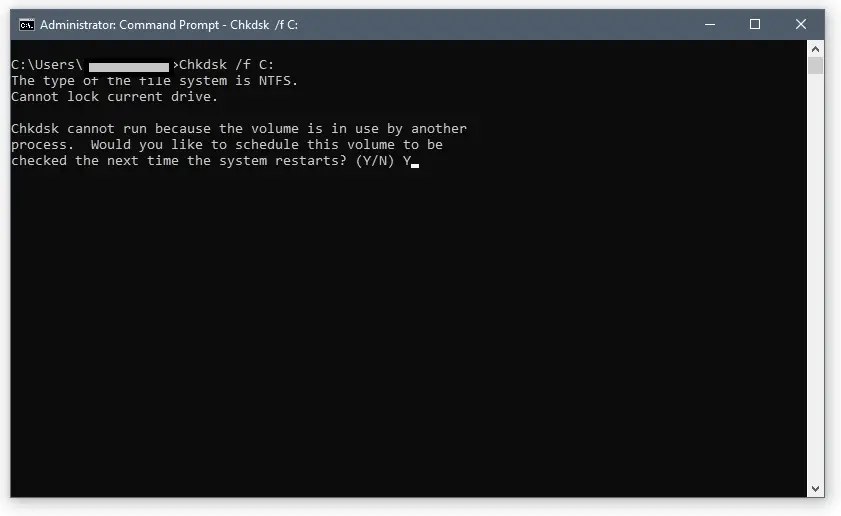 Wait for a few seconds for the command to finish, and then close Close Command Prompt.
Type the text 'Memory' into Windows Search bar or Cortana, and from the results, select the 'Windows Memory Diagnostic' option.
Next, look for the option, 'Restart Now and Check For Problems'. Select it.
Next, the System File Checker will then scan for errors, or a bad RAM sector that causes the intrusive Blue Screen error.
Finally, restart your Windows PC and then observe if the Kernel Security Check Failure Error has been dealt with or not.
Uninstall Graphics Card Driver on Windows 10
First, start your PC in Safe Mode . You can start Safe Mode from the options given in the Advanced/Startup Menu.
When Safe Mode is opened and accessed, open the Windows Run Box by pressing Windows + R buttons simultaneously. Next, type in 'devmgmt.msc' and select Enter to start the Device manager. When you are now on Device Manager, open the 'Display Adapter' section of its window. Then click on Graphics Card Driver e.g NVIDIA, then right click on it.
Next, select the 'properties' option.
Go to the tab labeled 'Drivers' and then select 'Roll Back Driver'.
Go ahead and uninstall the selected Driver if the information says it is no longer suitable or supported for your Windows System.
Next, reboot your PC, and select the ' Start Your PC Normally' option on the Advanced Startup Window.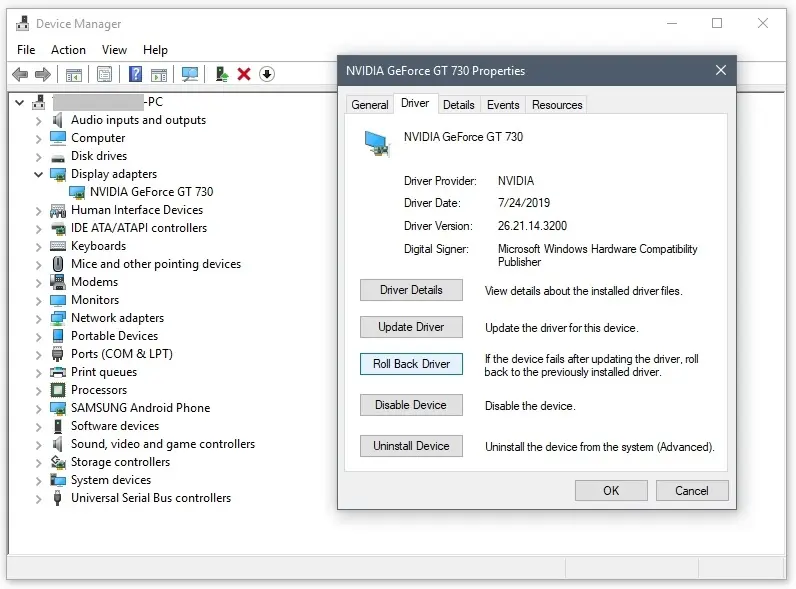 Run The MemTest86 on Windows 10
If you do not trust the results of the System File Checker or its scan , then you can try running the MemTest86 in order to fix the corrupted portion of Memory on your Windows OS. However, it is necessary that you have stored the MemTest86 on an external storage or hard drive, before starting out this process on a PC experiencing such errors. Also, you would have to ensure that your PC is plugged in to a power source, because of the long period of time that may be required for it to run a full scan. So without wasting more time, let's see the steps below to Run MemTest86 to solve the Kernel Security Check Error on the Windows 10 OS.
Once the MemTest86 software has been downloaded onto your PC, simply right-click on its file and select the 'Extract here' option.
When every file has been successfully extracted, go on and open its folder.
Find the installer application for MemTest86 and run/open it.
Next, pick the storage drive of your choice that you want the MemTest86 software to burn into.
After the MemTest86+ file has been sent or 'burnt' into an external hard drive, you can the install the drive containing these files into a Windows PC with a KERNEL_SECURITY_CHECK_FAILURE problem.
Now restart this Windows PC and boot by using the external hard drive with MemTest86+ installed.
Next, allow the MemTest86+ to scan your computer for any bad or corrupted areas located in your RAM memory.
Its diagnosis is in form of a test consisting of eight phases in total: If the Memory scan test stops at any point before completion, then the KERNEL_SECURITY_CHECK_FAILURE error is caused by bad or corrupted memory on your computer.
To get this problem solved would therefore require fixing the memory that has been corrupted on your computer's RAM.
Perform A Thorough Disk Cleanup, And Error Scanning
Firstly, start your Windows PC in Safe Mode, and then do a hard disk partition on your computer.
Go to the 'My PC' or 'This PC' folder and right-click on any of the drives that you want to scan.
Next, select the 'properties' option.
After the previous step, you would find the 'Disk Cleanup' option on the Window named 'Properties'. Select it in order to kick-start the cleanup process proper.
Next, go to 'Properties ' again and select the Tab labeled ' Tools'.
Afterwards, select the 'Check' option, located within the 'Error Checking' Section.
Ensure that the instruction displayed here are properly understood and followed, so close the cleanup procedure.
Lastly, restart your computer, boot, and sign in to your Windows System.
Relevant Links: