There are certain mobile applications dedicated to only iOS devices and to run those application on an android smartphone, you have to use emulators. These apps can run on android devices using the right emulators for android devices.

Why a Need of iOS Emulators on Android Devices?

In this guide, we will introduce you to the best iOS emulators and the methods you can apply to make them work on any android device.
Apple devices are quite expensive but they come with amazing applications. These applications can't be downloaded directly on your android devices, but certain emulators can help you enjoy the benefits of these top quality apps on your android phone. Certain people cannot afford to buy an apple device but that does not mean they can't explore some of the applications and games that makes an iOS device unique.
These emulators are also useful for app developers to help test the functionality of an app before installation. Developers use it to test for an app behavior and detect possible glitches before releasing it. It is such an amazing software to explore. Spare few minutes of your time to read through this article.
What is an iOS Emulator?
An Emulator is a special software that allows you run external applications or games on a specific device. So, an iOS Emulator is a software program that will allow you run an iOS application on a particular operating system. It could be an android OS or Windows. An iOS emulator will create a virtual iOS environment for apple apps and games to run on any device of your choice.
Emulators will allow you enjoy games and applications designed for two separate operating systems on a single device. For instance, if you can't afford to buy an iOS smartphone, you can get a quality Android phone and still enjoy your favorite apple games and premium iOS apps on it.
Watch this YouTube video to learn more about iOS Emulators
Best iOS Emulators for Android Devices in 2023
We have created a list of amazing iOS emulators for android phones out of the several emulators available on the internet in the year 2023. Most of them offers a great user interface while some are free. Let's get started by recommending the top 5 in no specific order!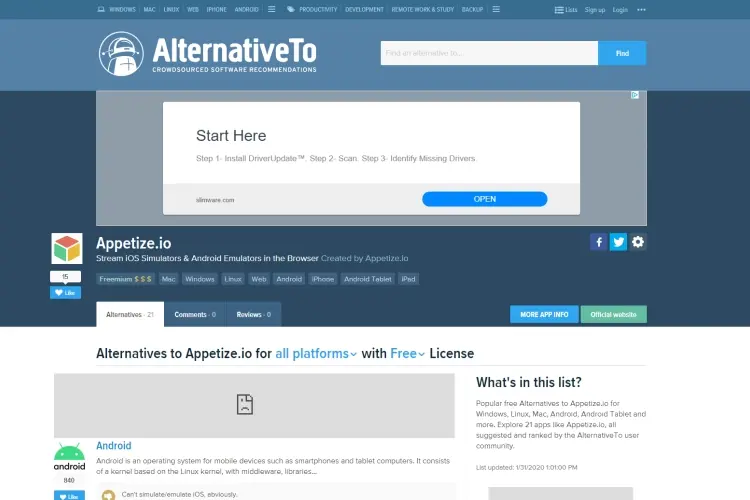 Appetize emulator offers the easiest mode of running iOS apps on android phones. It's first on our list because it is a special online platform that can be accessed without the tedious download process other emulators offer. It is a web-based emulator !
This is a premium platform that offers a free service. Game developers also use Appetize.io to test and embed apps during several phases of mobile game development. It also offers streaming service for apps with a dashboard for monitoring usage limit. Millions of people use this online emulator site to enjoy iPhone applications and mobile games on Android phones.
Unique Features of Appetize Emulator:
It is an emulator with the best user interface.
It works perfectly with JavaScript and html 5.
It can be used to play iOS games for free.
It offers a free trial 100minutes streaming time service for apps.
It gives you access to iTunes and Apple Store on your mobile device.
NOTE : Unlike other iOS emulators, it is web-based!
YouTube video: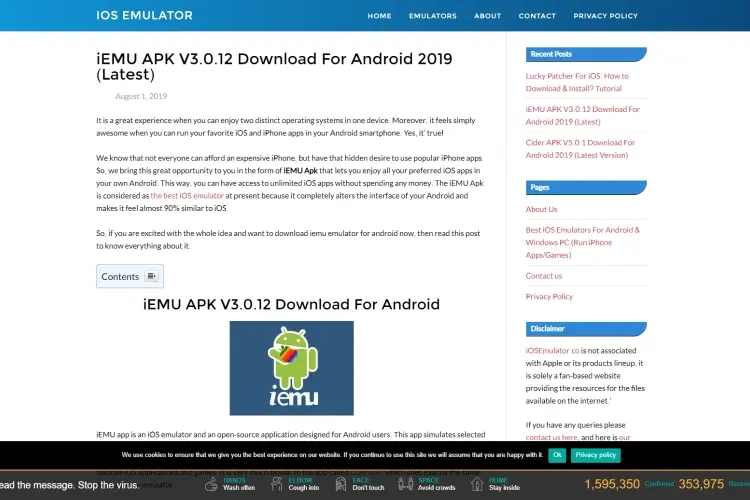 This is one of the best iOS emulators available on the internet. It made our top 5 list because of its amazing benefits and features. This is an excellent emulator designed for the benefits of android users.
It provides users with a superb virtual iOS interface where they can enjoy the best of apple applications on their android phones.
Visit this link to download a lucky patch for this iOS emulator so as to prevent in-app purchases and ads popping up while in use.
Unique Features of IEMU Apple Emulator:
It has a user friendly interface.
It has an additional zip file upload option .
It can work on all rooted or non-rooted android device.
It is not difficult to operate unlike some emulators.
This emulator does not require .apk files to run on your device.
It does not eat up your phone storage space due to its small file size.
NOTE: You can't play heavy iOS games with this emulator and it is not available on Play Store!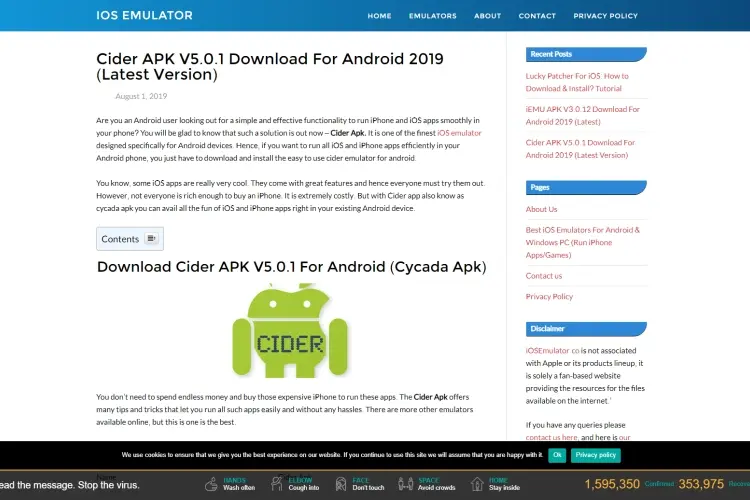 Cider emulator is another amazing emulator for running apple apps on android. It stands out due to a unique feature of cloning iOS applications into an android OS.
This emulator has a similar interface to the iEMU emulator due to its friendly user interface. It was designed by Colombia University students. It is called Cycada!
Unique Features of Cider Emulator:
It support lots of premium iOS apps.
Cider offers an all-round iOS user interface on an android OS.
Apple oriented games can be played for free with this emulator.
It offers a smooth gaming experience just like any other apple device.
NOTE : The download file is heavy and it does not work on all android devices!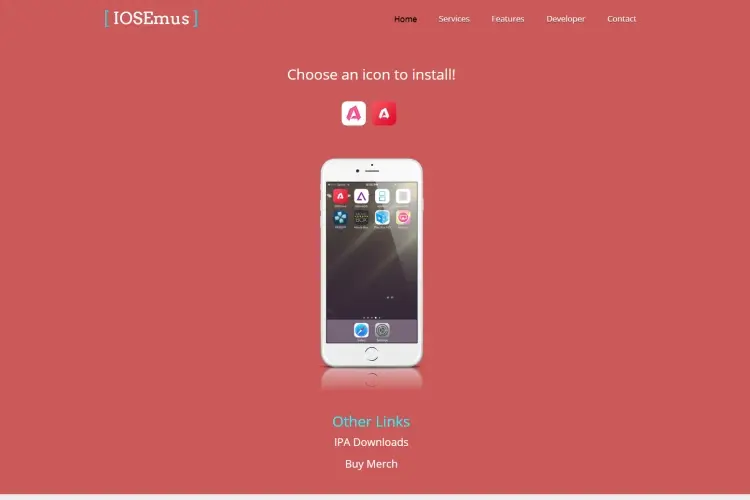 This is a popular iOS emulator. It is one of the best emulators you can use to run iOS applications on android devices. We recommend the use of this software because it offers every user a series of premium features.
The amazing premium features available with this emulator makes it a go to for most people in the year 2023. It is one of the best iOS emulators because it can be downloaded for free. You don't have to spend tons of dollars to use its premium features. You can enjoy all the features for free.
Unique Features of iOSEmus Emulator:
There is absolutely no in-app purchase.
It can run smoothly on android devices with low RAM.
It can be customized based on your personal preference.
It can work on any rooted or non-rooted android device.
You can run iOS games and applications flawlessly with this emulator.
NOTE : It comes with annoying ads!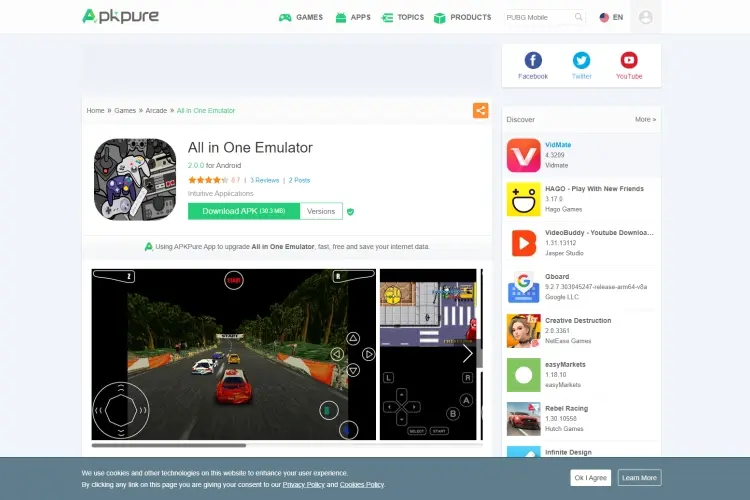 Anyone will understand what this software is all about from its name. It is an emulator that combines all the unique features from other emulators we discussed earlier.
This is the final iOS emulator on our list because we decide to save the best for last. If that's a thing! It basically supports all iOS applications. This particular emulator stands out because it allows you to run Siri on an android device . You know Siri right?! I bet you do.
Unique Features of All in One Emulator:
You can enjoy paid apple applications for free.
There's an in built Siri support which makes it unique.
It is free from malwares and also offers regular updates.
NOTE : User interface is not excellent and it is not ads free!
How to run and enjoy iOS Emulators on your Android phones
These are the steps to help install and enjoy your favorite iOS emulator on any android operating system in the year 2023.
Step 1 : Choose the emulator that interests you from our list.
Step 2 : Download the emulator of your choice through the links provided.
Step 3 : Download and install the .apk file on your device.
Step 4 : Ensure you enable the " Unknown-Sources " option in your device settings.
Step 5 : Open the iOS emulator and run it.
Step 6: Explore the series of amazing features available.
Now that you know the various iOS emulators available for android devices, it is important to understand how to install them. Follow the links and steps provided in this guide to enjoy all the benefits.
CONCLUSION
Emulators are becoming very essential in today's world. So, it is important to know the ones that will work for your specific device. It might appear that iOS emulators are few, I can assure you most are very effective. This list we compiled consists of the best iOS emulators without an iota of doubt.
You can enjoy many premium apple applications and games on your android device but be careful when downloading some of the APK files attached to these emulators so as to avoid any potential risk. We believe the recommended iOS emulators in this guide will be very useful for you and your loved ones this year.
We will like to inform you that iOS applications can also run on a personal computer (PC), should you want to explore that option. Emulators are cost affective and that's why we took out time to write this article. Actual apple devices can be quite expensive but a good emulator will make you enjoy iOS games and applications for free on your android device.
Learn how to install an iOS emulator for android in this YouTube video:
You can also check out the best iOS emulators for Windows and Mac. If you enjoyed reading, ensure you share your thoughts in the comment section and also remember to share this article with your loved ones. Some might need it!