Playing video games online is a major fun activity and it has also become a means of making money online remotely. There are several online gaming platforms and one of the biggest and most popular is Twitch.

It is important to understand how Twitch works, so as to know the best way to explore it and set yourself up to earn a considerable amount of money. Knowing how it works will also give you the idea of how much you can earn over a given period of time.
The purpose of this guide is to show readers how much money twitch streamers make and if it is a viable source of income. Just so you now, this is actually a gold mine opportunity for gamers and I believe you'll be eager to know more about it.
One of the best things in life is being able to make money from doing what you love. Tourists love to travel and explore new cultures but while they are busy flying around the world, many of them earn their source of living in the process. Gaming is also a hobby for millions of people around the world and it's quite awesome to understand how to make it a source of income to help boost your financial status. So, keep reading to have an in-depth knowledge about this.
About Twitch
Twitch is a video streaming platform that allows gamers to broadcast their in-game experience online. It is a very popular online platform used for live video game broadcast with the aim of entertaining interested viewers and also using it as a source of income. This site a llows gamers to share their video game experience with other gamers and internet users.
Millions of gamers love playing video games online but many have since become obsessed with it due to the fact they can now share their gaming experience with friends and other viewers on a platform like Twitch. Due to the influx of internet users over the years, twitch broadcasters have started getting more engagements on their channels. Now, over 2 million gamers have a twitch channel and while many see it as a hobby, others see it as a freelance opportunity to make money.
How Gamers Make Money on Twitch
As mentioned earlier, the influx of internet users and technology advancement has pushed an increase in traffic on twitch streamers channels. This has made broadcasting live games on Twitch a serious gold mine.
As good as this sounds, it is important to understand that this is not a get-rich-fast program. Instead, it is just another opportunity to make additional income to help supplement your major source of income. However, some gamers go into full time freelancing as professional Twitch streamers. That's interesting right?!
Twitch streamers are content creators and while many of them make money from creating and sharing contents just like YouTube streamers, there are several other ways gamers can make money on Twitch.
The other ways to make money on Twitch apart from content creation will be discussed in details but before then, you have to sign up with Twitch.
How to Sign Up on Twitch
One of the requirements needed to start making money on this platform is becoming a Twitch Affiliate. This is a partnership program that gives people the opportunity to enjoy certain Twitch benefits. However, you need to sign up first.
Follow the steps below to create a Twitch account:
Step 1 : Open a web browser on your PC
Step 2 : Visit the Twitch website
Step 3 : Click the sign up option to create an account.
Step 4 : You will have to fill a form with your personal details.
Step 5 : Approve the verification link sent to your mail.
Step 6 : Go ahead to activate the account.
Step 7 : You can customize your profile and your account is ready.
Customize your profile description and theme to give it a unique touch.
Becoming a Twitch Affiliate - Link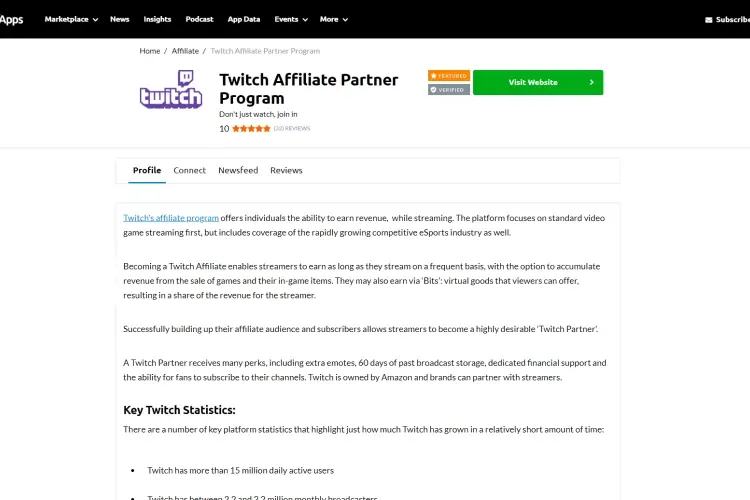 To qualify as a legit Twitch Affiliate, one has to meet certain requirements:
You must have a premium membership account.
You must have seven or more unique broadcasts.
You must have 50 followers or more.
You must have streamed 500 minutes or more within the last 30-days.
You must have three or more concurrent viewers within the last 30-days.
Aside being a Twitch Affiliate, you also have to be a registered partner to get more benefits. Twitch partnership will allow you have access to additional monetary options available.
Becoming a Twitch Partner - Link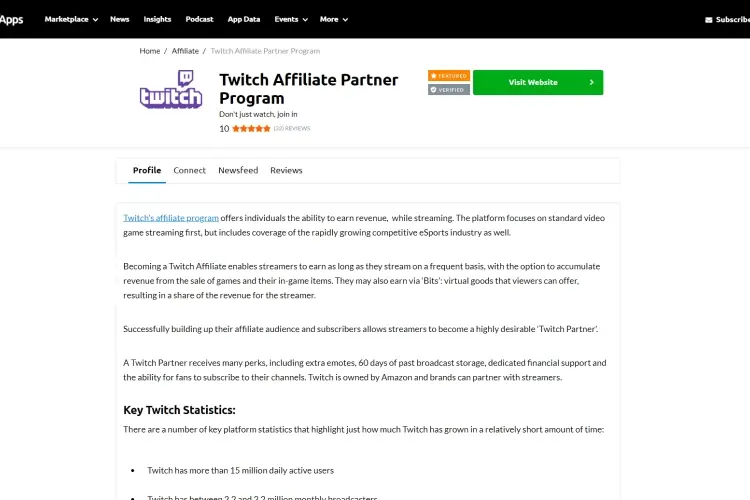 To qualify as a legit Twitch Partner, one has to meet certain requirements:
You need to have an average of 75 viewers within the last 30 days.
You need to have streamed for 12 days within the last 30 days.
You should have streamed for at least 1500 minutes within the last 30 days.
Becoming a Twitch Affiliate and Partner is very necessary if you want to make the most of this money making opportunity while playing games online.
Best Ways to Make Money on Twitch
To get a detailed insight on how much money Twitch streamers make, you have to understand the several ways in which they earn on the platform. Twitch streamers rely on these various income channels to make a lot of money.
1. Advertising
2. Viewers Donation
3. Game Sales
4. Subscriptions
5. Promotions and Sponsorships
Advertising
Streaming platforms creates an avenue for streamers to advertise products. Advertisement on these platforms takes a different form from the regular mode of advertising such as promoting ads.
In this situation, streamers are expected to post ads while streaming videos on Twitch. They are also expected to give positive reviews about products and services while broadcasting. Many companies love to advertise their products and services on streaming platforms due to a high level of traffic.
People prefer to read reviews about certain products or services from a third party before making orders. This will give them a level of trust in the product.
Streamers get paid on Twitch through a model known as Cost per Impression ( CPM ). It is a model that allows streamers to get paid per advert. The price ranges from $2 to $10 but it is also season dependent.
NOTE : You can lose followers if you post too much ads between streams.
Viewers Donation
Streaming platforms encourage viewers to give tips to streamers in appreciation for the content they shared after a broadcast. This option gives Twitch streamers an opportunity to make extra income while streaming on the platform.
A form of payment is done through the use of virtual currency known as Bits. Viewers and subscribers buy these Bits and use it to tip streamers if they love their content. Viewers also make donations off Twitch.
For you to increase your chances of getting tipped by your followers and viewers, you have to develop your interpersonal skills. You should make your viewers love you and the content you put out. That will encourage them to tip you when they can. Engaging in chats with viewers will also increase your chances of making good income. Streaming informative contents like how to learn new gaming skill will increase your audience and chances of getting tipped.
NOTE : Amount of money that can be made from tips is streamer dependent.
Game Sales
Twitch streamers also earn money from game sales. When a new game or game feature is released, streamers are expected to promote it on their channel. For every new game promoted, the streamer gets a 5% revenue on every purchase.
NOTE : Money earned from game sales depends on number of sales and price.
Subscriptions
One of the best ways to generate income while streaming on Twitch is through subscription. Twitch streamers create channels for broadcast purpose and viewers are expected to subscribe to these channels so as to enjoy contents.
Viewers get notified on new streams if they are following a particular channel. When viewers subscribe to a particular channel, a certain amount of money gets deposited into the streamers account.
Twitch subscription is in three parts; $4.99 for 1st Tier, $9.99 for 2nd Tier and $24.99 for 3rd Tier. The percentage the streamer gets on subscriptions varies based on tier category. So, the higher the subscription, the better the income.
NOTE : Earnings on subscriptions are limited to Twitch Partners and Affiliates.
Companies and brands are willing to pay people to promote their products and services. For example, they pay social media influencers to showcase their products and promote their services to the world due to their huge audience.
As a streamer, you can be as useful as a social media influencer in helping to promote products. Many companies pay Twitch streamers to promote their brands. Streamers can also get involved in sponsorship deals that involves playing games developed by certain companies.
NOTE : Sponsorship rates depends on views per hour.
Conclusion
It is important to understand that you won't automatically get paid by Twitch for just streaming videos. There are certain activities required which have all been discussed in this article. Streaming on Twitch is a viable source of income but it requires patience, consistency and determination.
If you love to share videos and your gaming experience with the world, Twitch will give you a wonderful platform to do that. You can also use the platform to earn additional income by streaming and sharing contents with online viewers.
The amount of money you can make as a Twitch streamer depends on your channel engagements and how well you relate with viewers. It cannot be quantified in terms of figures except you speak with professional Twitch streamers. I believe this article has been very helpful.
YouTube Video How Much Money Do Twitch Streamers Make ?
Ensure you share your thoughts in the comment section.