Fitness plays a very important role in our lives. With the advancements in technology , we are most used to the gadgets and services offered by machines.
Why a Need for a Good Running App on Android / IOS devices ?

This has left a very negative impact on our health. Sitting all day is leading us towards many issues of serious concerns including stress and obesity . Staying fit and healthy is therefore a very important requirement in today's world. But, as we all know that our tough schedules never allow us to keep a regular check on our fitness level. Nevertheless, we set a separate time for exercise. So, what could be the possible solution for this serious problem? The answer to that lies in the technology itself. As, there is a proverb that "Diamond cuts Diamond" . In the very same manner, technology is the answer to our technology dependence. Because of the new inventions and amazing features offered by these inventions. Fitness no longer remains an issue for us. There are various apps you can think of for taking your fitness to a next level. These apps provide a detailed analysis of all your fitness activities. A wide range of effective challenges are offered by such apps to make your healthcare maintenance more fun. In this article, we are going to tell you some of the most amazing running apps which are surely going to give you an unforgettable experience.

Because among all the kinds of exercises, the easiest one you can go for is running. Since, it is very very effective in burning a huge amount of calories in no time. Therefore, many fitness experts focus on the importance of running in spare time.With the help of specially designed apps, with the extensive GPS tracking system . Running no longer remains an exercise but turns into an adventure. So, who are you waiting for? Tie up your trainers' laces and get set for running with some of the best running apps along you.
Best Running Apps on Android / IOS to Burn Fat and Stay Healthy in 2023
Here is a list of some most interesting running apps you can look for making your fitness admirable in front of your next door neighbour.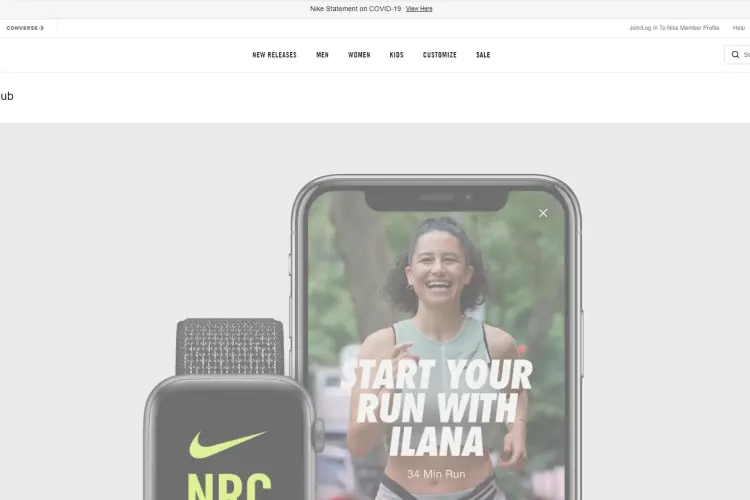 Nike has always remained a leading name in providing some of the really best fitness products . Nike Run Club, has the same mission of making your running journey memorable one. This app has very advanced features, through which it guides you along your path throughout your running location. Not only this, but you can also pin the start and end point of your run here on a daily basis. It provides you with the total distance covered in kms and metres. But, this is obviously not which many of us are striving to find within a running app. But, we all want it to be scientific enough to tell us your burned calories. The developers of the app have specially kept this requirement in minds and have developed a scientific system quite efficient. Here, you not only find out the overall distance covered by you. But, you also find out the total steps and the calories burnt at each step. Not only this but specific coaching plans are its most distinguishing feature. These provide you with a personalized couch guiding you more about your health and fitness. There are specific paths available based on your location which give a random overview to you about how much calories will be burned over a certain path. This comes with some really interesting "lap challenges" . Within the challenges section, you select the challenge of your choice and fulfilling it grants you with certain points. These points can later on be used to redeem more challenges. The app is easy to use and compatible with all devices.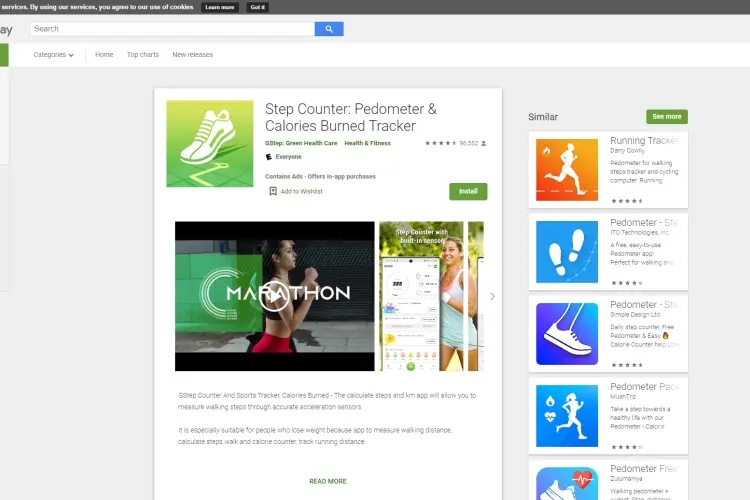 Just as the name suggests, Step Counter is another excellent application for your daily based running activities. The most remarkable feature it offers is that it counts your steps. These counted steps tell you how many calories you have burnt throughout? Here, daily based challenges welcome you. The level of difficulty rises with each day. The more you become challenging, the more rewards you can expect. Many of us have this bad habit of keeping on forgetting our workout routines. Therefore, being so busy we miss the important hours of fitness. But, this doesn't let you so. But, it has gentle reminders that keep on reminding you that your fitness routine is waiting up for you. It not only provides you with your recent fitness updates. But also keeps a track of all your past running activities. This keeps on analyzing your highest running activity and provides you with all the past and recent running activities. A graph of all your weekly and monthly workout plans is provided by the app. It also focuses on the kind of run you are more interested in. If you are more into running. Then, a specific track of that is kept. And for your jogging adventures, there is another separate record. The app is compatible with all the devices and notified you properly on each of the updates.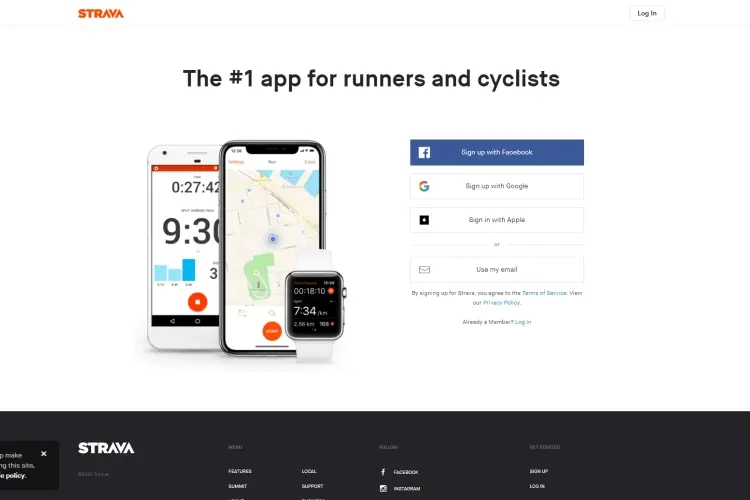 STRAVA understands that gymming and effective harsh workout routines are not made for all. Therefore, it gives you an alternate to the tough gyming routine. By providing you with the simple running tracks, it gives you latest updates on how much you are doing to keep yourself fit. A guided track is there, which not only guides you about your running direction. But, it also tells you how much of the calories you ate side by side. Just like other running apps, this app also provides you with the daily and weekly based challenges. The finest route maps based on maximum fitness are assured here. The best feature of the app is its summit introduction. Here, you can join other global runners in the challenges offered by the app. These summits can be based on your geographical location and offer you much. You can get to know the workout routines of others and how they maintain their fitness on a daily basis. STRAVA is the new future to traditional gym services.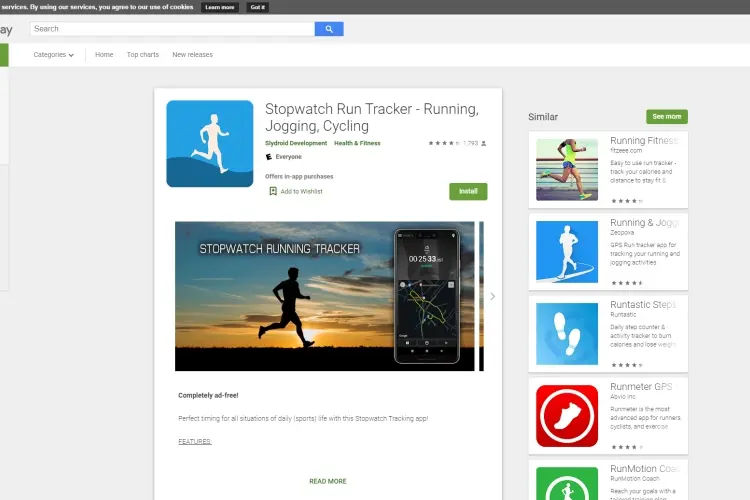 Remember back in school day the PE teacher used to have a stopwatch in his hand, telling us our total covered distance. StopWatch Run Tracker, takes you back to those school days. It keeps a track of your running activity by counting the total time of your run. The time is recorded based on your total distance and time covered in covering up the lap. This is not the only feature, the app has to offer. But, it also gives you a GPS tracking system. The speed difference with every twist and turn. The app is compatible with all devices and keeps a track of all your new and previous running activities.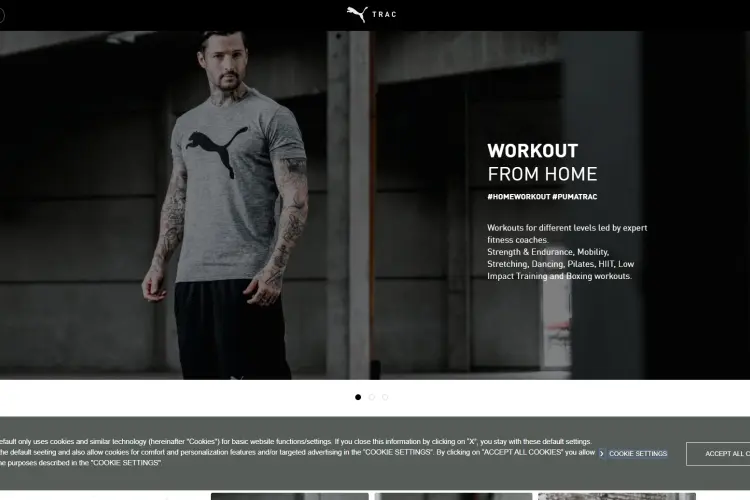 Launched by the renowned sports company "PUMA" . This app meets all your athletic needs. If you are into running with passion, this is the app you should try. It works on android devices. The features introduced by the app are tracking and guiding your lap, setting up a daily challenge for you. Providing you with features of setting up a target and GPS tracking . You can find out your lap distance alongside the burnt calories.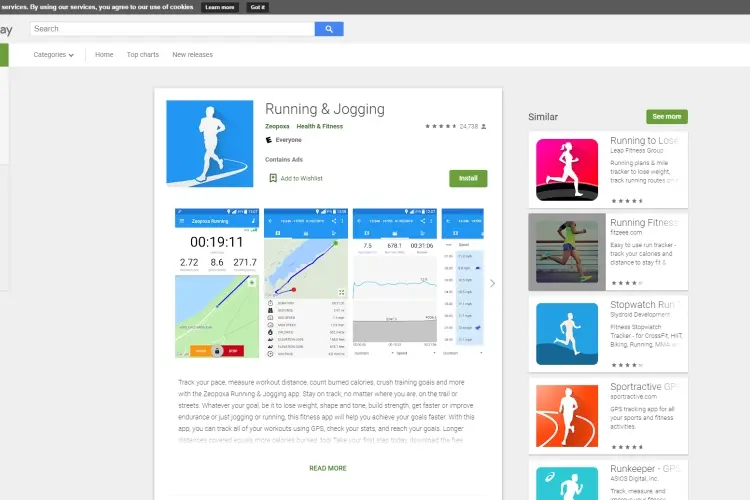 If you are tired of your uncontrollable weight. Turn to this app. One of the best features of Running & Jogging is the graph formation. It constructs graphs showing your workout routines. These routines carry out the calories information within them. Everyday, they set a daily goal for you to accomplish. Once you accomplish your daily goal. The graph shows how much you are near to losing your weight. Not only it sets up goals but also provides workout training. Using this feature, you can get advanced methods of losing your weight up to 2.5kg per month. The app is totally free to use, therefore, you can avail all the features.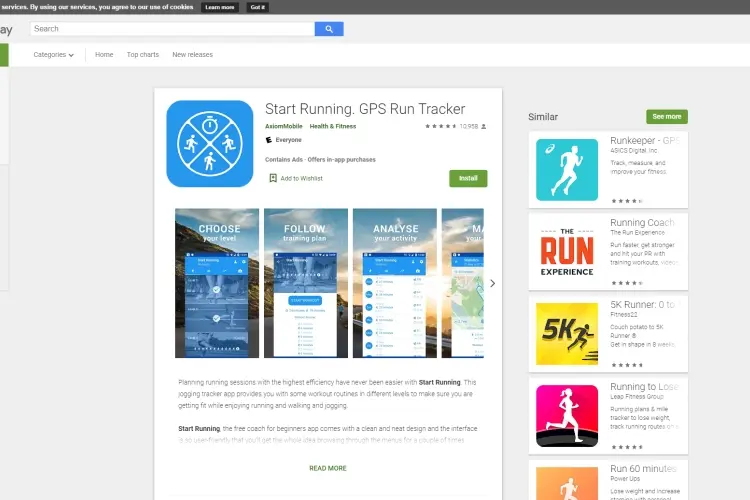 Start Running's most interesting feature is its easy-to-use interface. It offers you running sessions based on your physique and weight. Not only the sessions are personalized. But, a personalized daily chart of your health is also provided. The app tracks the distance you cover on a daily basis and then analyzes your fitness condition. For beginners, who love to choose running as their favorite workout activity. This app can do wonders.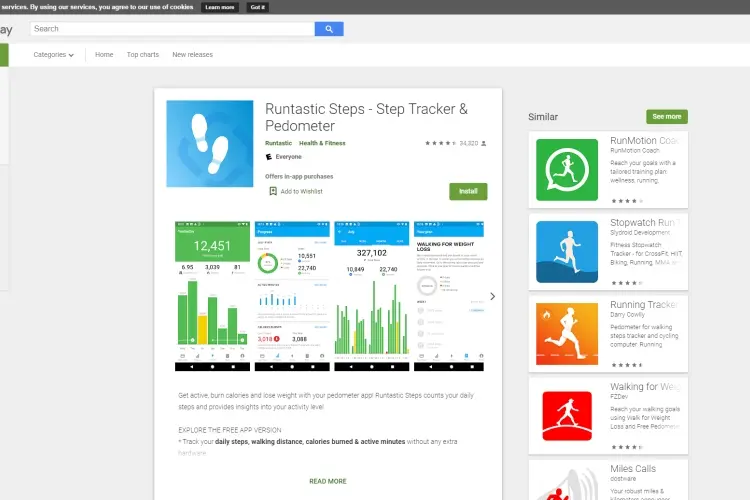 This app just like its name provides you with a fantastic running interface and features. It has two basic services to offer. Once you access the free features. They provide you with a personalized tracking of your routes. A daily goal is set up for getting the best workout output. Based on your goals, your burned calories are analyzed. The free features are perfect for the beginners. But, once you become a trained runner, you can go for the premium offers.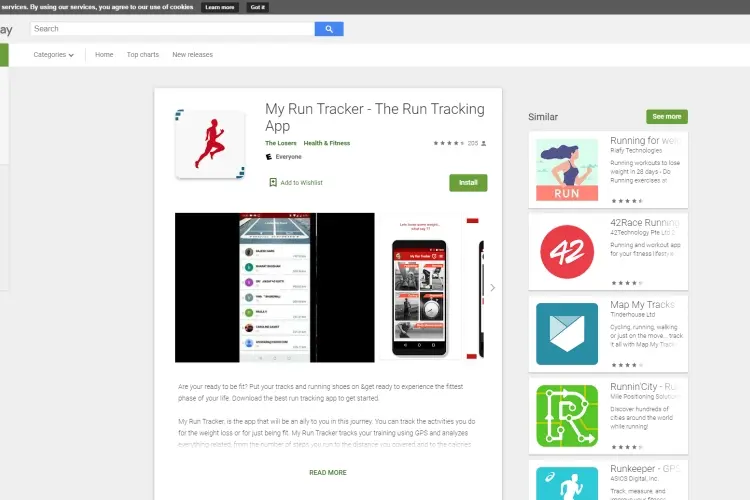 My Run Tracker, is an interesting app made solely for keeping you fit. It provides you with a "Daily Run" board where you can set up a goal and run accordingly. The app tracks your running details through personalized GPS tracking. The app also has an "inbuilt music feature" through which you can enjoy your personalized choice of music during the run. There is an "All Run" board where you can easily find out about your progress in the workout.
Verv is specifically designed to combat your weight loss issues . It has a unique interface which gives you a wide range of plans according to your weight. Once you enter your current weight and the weight you set as target. The plan appears before you. It usually ranges from a 10-30 day plan . Once you complete one plan. The next comes up before you. The app because of this excellent work-out plan got the attention of Washington Post and Huffington Post.
These are the top 10 apps, you as beginners can totally rely upon for all workout issues. Because, these are never going to lead you down with their amazing features.