If your PC displays a pop-up saying, ' Windows Defender Turned Off By Group Policy ', what can you do to fix this error ( as in here)? That is what we are going to deal with in this blog post. And due to the fact that many users of the Windows OS find Windows Defender very reliable in terms of providing PC protection, a little error connected with it can result in the computer getting vulnerable and exposed to threats. Therefore, users must ensure that the Windows Defender service is working at a full capacity, without any interrupting errors whatsoever.
Best Ways to Fix "Windows Defender Blocked By Group Policy" Error in 2023

With several updates to the Windows systems over the years, the Defender has become much better and improved. This built-in antivirus by Microsoft will always be available for every Windows user, irrespective of the OS version . And just like other Windows services, Windows Defender is prone to run into errors as well. This error is usually the 'Windows Defender Turned Off By Group Policy', and this guide contains the necessary methods and procedures for fixing it.
Ensuring That Windows Defender Is Functioning Smoothly
For the entire Windows system to work just fine, all services that are associated with it must run smoothly . If a message saying 'Windows Defender TurnedOff By Group Policy is displayed, then it has to be turned on in order for it to start working all over again. If you want to check on the Windows Defender service to ensure that it works just fine, follow through with these steps:
Open Run box. Shortcut: Windows button + R simultaneously.
Type in the text 'services.msc' in the blank search box, the then select enter or OK.
A list of services will be displayed on the screen. Look for the 'Windows Defender Antivirus Service' option and double-click to access its properties.
Set up the startup type to Automatic mode for Windows Defender.
Select the Start button to get started with Defender.
Finally, select the 'Apply' or OK option to effect and save changes.
Now Check again and see if the 'Windows Defender Turned Off By Group Policy' problem has been resolved.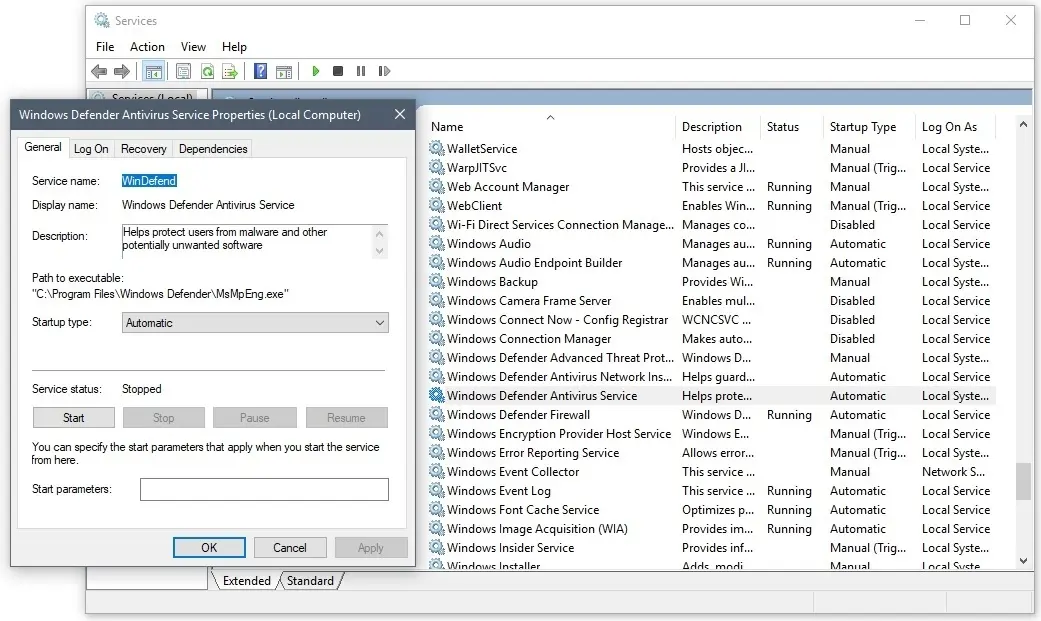 Turning On The Defender From The Group Policy
If it is the Group policy that stops the Windows Defender service , then it should be activated or started from there as well. Similar to some other errors, an administrative access is required to use this procedure. The steps for turning it on from group policy are listed below:
First sign in to your PC as an administrator.
Next, type in 'gpedit.msc' into the blank search bar (Cortana), then select Enter.
Visit the Local Computer Policy settings and then go to Administrative Templates.
Head on to the 'Windows Components' section
Next, select the 'Windows Defender Antivirus' section.
Enter the right-handed panel where you'll find the 'Turn off Windows Defender Antivirus' option.
Select it to open by double-clicking.
Toggle the switch in order to start Windows Defender via Group policy.
When the new screen comes up, select the 'Disable' option.
Select 'OK' in order to save and apply changes from Settings.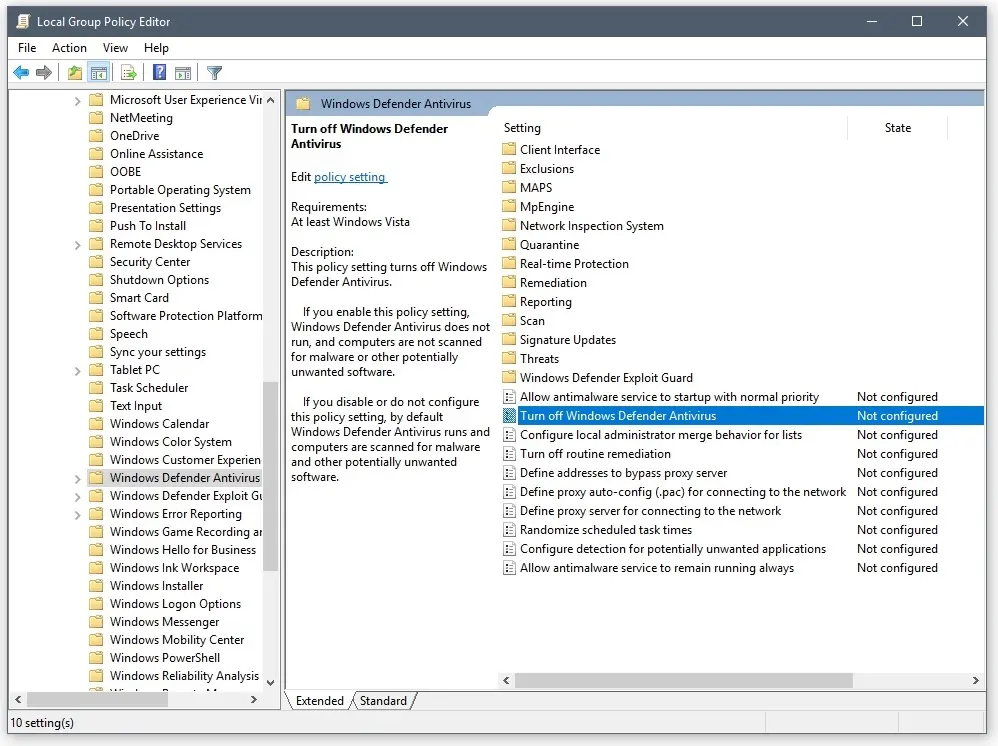 Switching On Windows Defender From Settings
If the Windows Defender service was never previously activated or functional on your PC, ensure that you check the Windows Settings. You can easily t urn on Windows Defender by following these steps:
Open Windows Settings. Shortcut: Windows button + I simultaneously.
When Settings comes up, go to the section named 'Update and Security'.
Next, click on the Windows Defender option from the menu towards the left.
The Windows Defender Security option will then be displayed towards the right aspect of the screen. Click on the option to 'Open Windows Defender Security Center'.
If you are going to switch on Windows Defender using Group Policy, the head on to the 'Virus and Threat Protection' section.
Go to Virus and Threat Protection Settings.
Enable Real-time protection from the list of options displayed.
You can now use the Windows Defender in its full service for maximum PC protection.
Making Use of 'Regedit' To Solve the 'Windows Defender Turned Off By Group Policy' Problem
If your Windows PC is constantly experiencing errors, the 'regedit' command can always be used to fix such problem. Very commonly, the issues that occur on the Windows services arise from its own prearranged Settings. To use regedit for a fix, follow the steps below.
Open Run box. Shortcut: Windows button + R simultaneously .
Type in the text 'regedit' in the blank search box, the then select enter.
Go to this location, 'HKEY_LOCAL_MACHINE / SOFTWARE / Policies / Microsoft / Windows Defender'.
Next, delete the default value, if any, in the 'DisableAntiSpyware' key.
Check carefully, the fileunder type, named 'REG -DWORD'.
You will find 'invalid DWORD (32-BIT) value under the Data option.
Double-click 'REG -DWORD'.
You'll then notice a small window displayed, just set the value to zero (0) or delete.
If the value cannot be changed, then delete the entire key.
If you would like a more practical solution, then delete this file 'DisableRealtimeMonitoring DWORD' which can be found under 'HKEY_LOCAL_MACHINE / SOFTWARE / Policies / Microsoft / Windows'.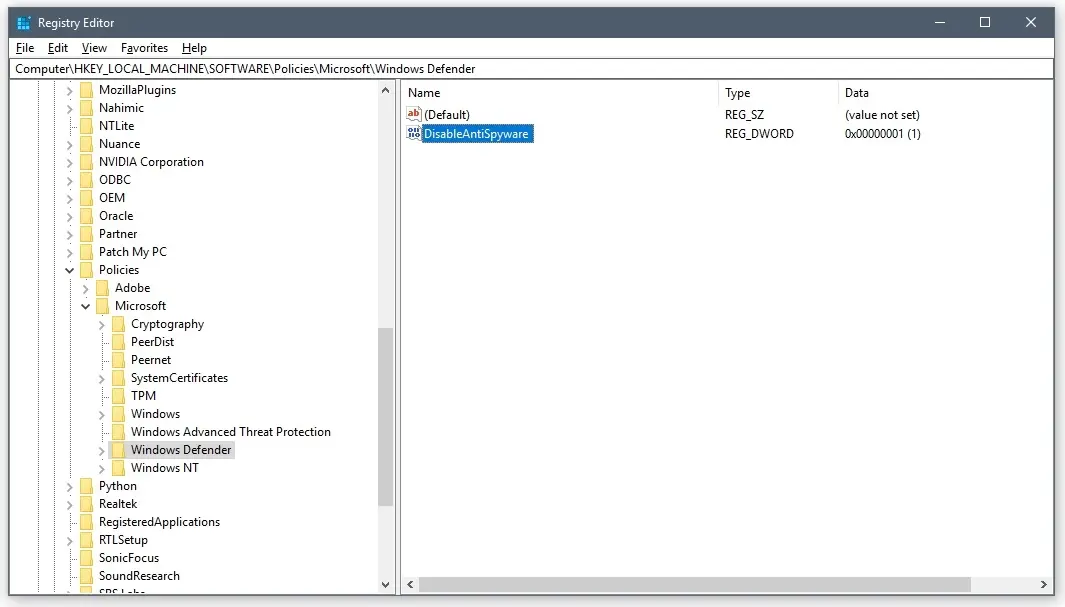 Switching On Windows Defender Through Command Line
If you are a more experienced user of the Windows OS, the Windows Defender Turned Off By Group Policy problem can be solved via running a command line . To do this, you can type in several commands from the Admin user/account. You would have to be familiar with your PC to successfully use this method. The steps are given below:
Press simultaneously, the Windows + S keys in order to search for the Powershell service.
Right-click on Powershell from the Search results and choose the 'Run as administrator' option from the list.
When Powershell comes up, type in 'Set-MpPreference - DisableRealtimeMonitoring 0' and select Enter.
Give some time until the command is completely processed. After it is processed, your Windows PC will now have complete protection as before.
Activating Windows Defender Via Command Prompt
Just like using a command line, you would have to have administrative access to activate the Defender service through Command Prompt. Follow these procedures to do this:
Press simultaneously, the Windows + X keys.
Choose the Command Prompt (Admin) option form the displayed list.
When the command prompt starts, type in reg delete "HKLM\SOFTWARE\Policies\Microsoft\Windows Defender" /v DisableAntiSpyware into Command Prompt and select Enter or OK.
When the command is done processing, these values that have been typed in will be wiped from the Windows Registry.
Finally, Windows Defender will now begin or resume its job of protecting your PC once again.
Scanning Your PC For Malware and Harmful Programs
If at any given time, a program, service or applications stops running abruptly or strangely, it is necessary for the user to make sure that there are no malware programs within. And in this case, Windows Defender is unavailable for a scan, so a third party antivirus software i s necessary in order to perform this scan. That, or you can use the CCleaner application to check for a corrupted registry or other malware located far within the Windows system. If or when these malware files are found by the third party software, it immediately wipes them out of the system . When that has been done, you may check again to see if the 'Windows Defender Blocked By Group Policy' problem has been finally solved.
Change Your Antivirus Software
You can change your default antivirus service (Windows Defender) if you believe that it does not offer a full protection for your PC. Although, as a default antivirus, it is handy, useful and simple, but it can also run into several problems that could make it stop completely, whereas the third party antivirus software could easily deal with them. When Windows Defender faces these problems, it may become a liability. However, if you take up a third party to be your antivirus provider, then ensure that it is compatible with your computer's specifications. Third party antivirus software usually bring a richer range of functionalities that the default Windows Defender doesn't have. These antiviruses can go as far as protecting your computer from malware on the Internet, on web pages, and certain URLs . Therefore, this brings a better form of protection for your PC, making you less bothered about the 'Windows Defender Turned Off By Group Policy errors.
Uninstalling Third Party Antivirus Software Completely
If up to two different antivirus software are installed and functional within one Windows system, it could result in a crash for one or both. This happens because these antiviruses will fight each other for control of the Windows system, resulting in the turning off of Windows Defender. If one third party antivirus software interferes with Windows Defender instead of working hand-in hand with it, then it is best to uninstall such a software completely. When it has been uninstalled, delete all leftover files related to it as well. Ensure to look for its registry entries, and programmed hidden files and wipe them as well. When the residual files are removed from the system, no third party files will interfere with the Windows Defender service any more. You can use CCleaner to perform the delete procedure efficiently, or else, you can do it all manually. CCleaner also wipes the residuals as well as registry items.